Before the birth of internet as we all know it today, musicians had a lot more difficulty getting their talent discovered. Now, many of the most popular musicians today got their big break after being discovered on platforms such as social media. Famous musician such as Justin Bieber, Shawn Mendes, and Colby Caillat all started to become famous via the powers of the internet. If you're an aspiring musician, a strong online presence could be the key to your future success.
There are currently over 200 different domain name extentions available to register on the internet in 2021. With so many domain extentions some niches have been targeted perfectly to make use of a great looking and memorable name. Many music groups have often needed to change the name of there band because the domain name they wanted to use was already taken. This problem has been solved by release of man new domain exentions that suit music composers, bands and musicians.
What is a domain?
A domain name is the address of your website. This is the name a searching internetusers will type into their search or address bar within a web browser to visit to your website. Think of your domain as the address of your house. If you were to ask someone to come over to your house, you would give them your address. The same thing applies if you want someone to come to your website. You will give them your website address, which is the domain name.
The domain name system is actually quite complex. The reason why we use a doman name these days is because websites are not actually known by a name. However, they are attached to something called an IP address. Every website has its own IP address. It is a long string of numbers that looks something like this. 192.168.1.254. This would make it impossible for anyone to remember the address of your music or bands website. So back in 1983 the DNS system was invented. The DNS system converts a hard to remember IP address number into a name that can be rememberd. So when you type in the domain name of a website, that name gets converted into its IP address number.
Music domain extentions
Here is a list of domains that can be used for anyone in the music industry. Not all domain registrars offer the below extentions so we found an Australian company who provides all the popular music domain extentions. You just need to visit the site and naviagte to the search box and type in your chosen name to first check that it has not already been taken. If its free you will then be taken to a registration page where you will enter in your personal details and make your payment. Domain Name Registration is often very cheap and you have the option for register your name for a period between 1 to 10 years.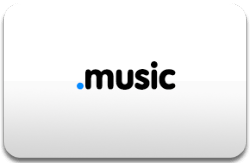 Domain Names For The Music Industry
.music
.band
.radio
.guitars
.hiphop
.fm
.country
.audio
.record
.com
.net

Why muscians need a domain name and a website.
Websites are the first step for online visibility that's why every artist, musician, band or label needs to have one. In todays music market social media profiles of the musicians or artisits won't be enough if you want to have a description of your overall exposure. Registering a domain name and bulding a website enables you to transmit and advertise your message in the most convenient way .